Roy Orbison was signed by Sun Records in 1956, but his greatest success came with Monument Records in the early 1960's. Between 1960 and 1964, 22 of his songs placed on the Billboard Top 40, including Only the Lonely, Crying, and Oh, Pretty Woman.
Friend and business partner Les Vogt and I became good friends with Roy over the years and he appeared in Vancouver many times. When Les and I were planning the acts for EXPO 86 we thought our old friend Roy Orbison would be a great headliner. Roy was on the comeback trail with the Traveling Wilburys and his Mystery Girl CD was enjoying success. He agreed without hesitation, saying "I will cancel some appearances and work with you, as you and Les were the only people to give me a bonus in my entire career."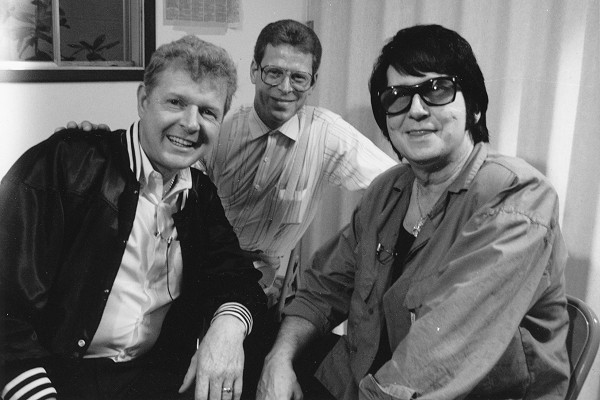 Bobby Curtola opened for Roy at the 4000-seat EXPO Theatre on August 10, 1986. Roy appeared twice that day, once for an afternoon matinee and then on our evening show. We taped this interview between shows. It's featured on my new YouTube channel, Red Robinson's Legends.
During his final Vancouver appearance at the Orpheum Theatre in 1987, Roy told us backstage that he had recorded a new version of Crying at Blue Wave Studios in the city, but this time he sang it with Vancouver's kd lang.
Roy Orbison was inducted into the Rock & Roll Hall of Fame later that year. He died of a heart attack on December 6, 1988, at the peak of his renewed popularity. Roy gets my vote as the nicest performer I ever met. He was a wonderful, honourable guy. We miss him and his music.
And this just in from the Roy Orbison Store:
"Black & White Night 30 is a re-imagined, re-edited, remastered and expanded version of the original television special, available both as a CD/DVD set and as a CD/Blu-ray set on February 24. Re-edited by Roy's youngest son Alex Orbison, the program has been restored to reflect the correct set order as the audience who attended the show saw it. Liner notes written by son Roy Orbison Jr. are included in the packaging as well as a treasure trove of bonus content."
Click on the cover to get your copy!