Saturday June 20 at the old Spencer mansion near Jericho Beach, a gathering of radio personalities came  to pay tribute to one of the industry's own, Al Jordan.  It was a bright sunny day and friends and family were out in force.  It was wonderful to see Al's wife Donna on hand. Donna was  accompanied by  daughter Laura and sons Randy and Brook. Randy handled the emcee chores like a pro. His father would have been proud particularly since he did not refer to any notes with the exception  of the list of people who were in attendance from media. Both Laura and Brook also spoke.
It was really amazing to see so many from radio's dynamic past.  On hand were Jerry Landa, Dave Abbott, Pam Burge, JB Shayne, John Tanner, Terry David Mulligan, Jack Bennest, Frosty Forst, Cameron Bell, Dan Russell, and Douglas Miller.  Others sent regrets including Dave McCormick and Fred Latremouille. They were out of town and couldn't be there.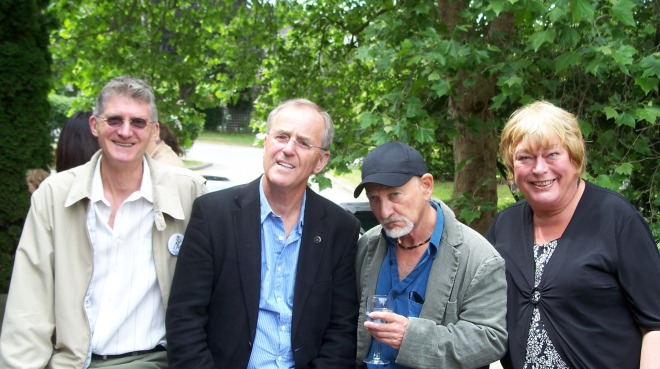 Jolly John Tanner, Terry David Mulligan, J.B. Shayne & Pam Burge
photo courtesy BC Radio History
Some wonderful and poignant moments when Terry David Mulligan and John Tanner spoke, and Randy Jordan read a letter from Dan Russell. Dan was there but chose not to speak as I believe he was too choked up to read it. I had an opportunity to tell how Al made it possible for me to get into radio. This was indeed a fabulous send-off to a mild man with a heart of gold and a voice from heaven. We all were  once part of a great  medium called radio. I know that those who were at the tribute will agree with me that Al Jordan was a positive force in their lives and in their careers. He will be missed. Goodbye old friend.
Sunday's Province newspaper ran a wonderful tribute to Al and the cover of the Province entertainment section showed a full  page photo of the C-FUN  Good Guys.  A special thanks to Susan Lazaruk at the paper for  this recognition.