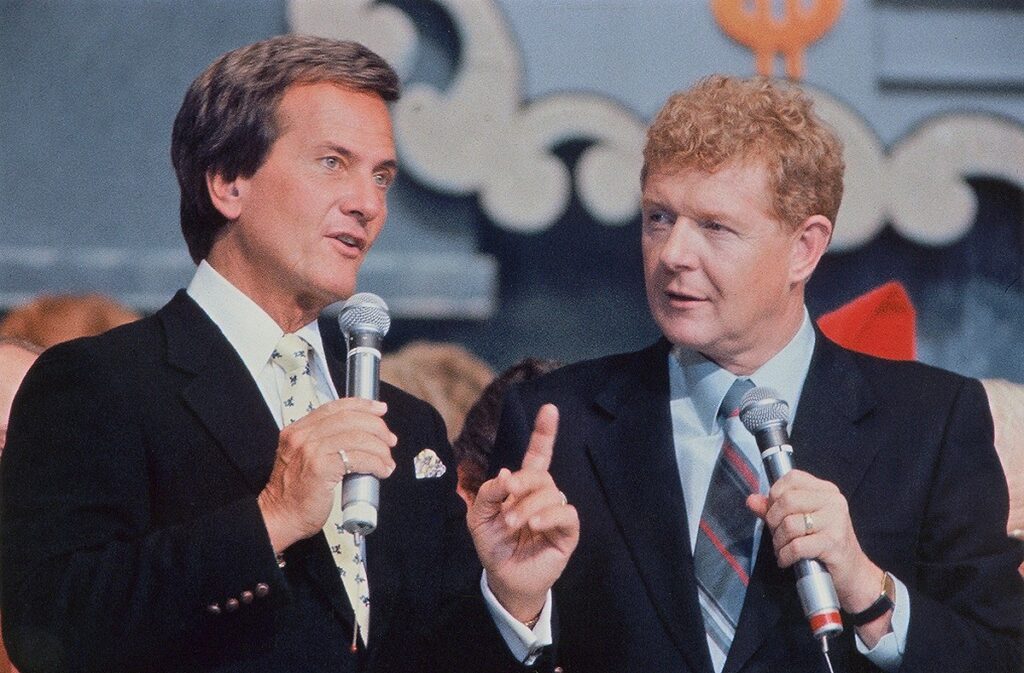 My friend and pop music legend Pat Boone is celebrating his 86th birthday today! We go back a long way. My November 29th, 1957 Vancouver Sun column saluted Pat:
"Pat Boone, contender for the top vocalist of 1957, was on hand for the gala premiere last week at the Roxy of his second motion picture 'April Love'. It was one of the biggest premieres ever staged in New York. The show will be seen in Vancouver for the Christmas season. In conjunction with this movie, Dot Records has released an album of songs from 'April Love'. Besides having a big contract with Twentieth Century Fox, Pat has his own television show."
I didn't meet Pat until 1963, when his biggest days as a hit recording artist were behind him. I found him to be one of the most likeable people in or out of show business. Those who were not around in the early days of Rock don't realize that next to Elvis Presley, Pat Boone was the most consistent and most popular of the teenage idols of that era. Pat sold more than 45 million records and he had 38 Top 40 hits. According to Billboard, Pat Boone was the second-biggest charting artist of the late 1950s, behind only Elvis.
Some have said he was a bland artist. I hardly think so. When Pat Boone burst forth it was a time when black artists couldn't break the charts. His initial success came about through his "covering" of Rhythm and Blues hits like Fats Domino's "Ain't That A Shame" and Little Richard's "Tutti Frutti". Some say he took the guts of R&B music and diluted it. It is my opinion that he sang it as he felt it.
Regardless of opinion, this man did a hell of a lot to advance the black music of the Fifties and his string of hits proves that the public at large liked him. After his initial fling with R&B, he moved toward ballads where he continued to be a success. Pat was a wholesome image for Rock and Roll and maybe he kept it from being wiped out.
Like Presley, he made movies: "Bernadine", "April Love" and "State Fair". These were family shows in the true sense of the meaning of that expression. They did well at the box office but not quite in the same league as the sensational Elvis Presley.
Whether he was too good to be real or not, the wild frenzy of the Sixties was to take its toll. The public stopped buying Pat Boone records. His last chart action came about in 1969 with a version of "July You're A Woman".
Like Elvis, his place in the Rock & Roll Hall of Fame is assured if for no other reason than he made it possible for black music to be bought and heard. Are you listening, Rock & Roll Hall of Fame?
In our interview, Pat shares the story of his early career with Dot Records; the changing relationship between artists and radio; how he met a kid named Elvis Presley in Cleveland; Pat encourages a young Roy Orbison; his often misunderstood role in our wider acceptance of black music; his movie career; facing challenges as an entertainer and making a spiritual commitment; the enduring success of rock'n'roll; what he'd like to remembered for. Recorded in 1989 in Vancouver. Listen:
Visit Pat and stay in touch at patboone.com. The Pat Boone Hour, "music and memories that fit a dedicated theme each week", airs Tuesday, Thursday, Saturday, and Sunday on SiriusXM's @50's on 5. Check for details and show times.