Dave Keeley writes: "Your Portland venture was my favorite in your first book. Why? Because I lived there, heard you on radio and watched your show. At nine years old getting my taste for Rock'nRoll. I have a question for you. In May of 1959 KISN started up. I'm wondering if you or anybody at KGW was ever concerned about losing listeners to KISN? I confess to listening to them but I always came back to KGW."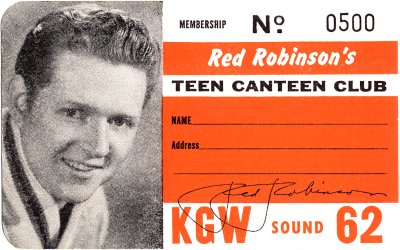 KGW Radio's switch from ABC to NBC in 1959 created some problems for us. The station format was Rock 'n' Roll around the clock, but NBC commitments for news and commentary would cut into the time allowed for deejay shows. This made us susceptible to competition, and that would come in the form of KISN Radio. KISN came on the scene later that summer and took away the impetus of KGW. KISN did not have a network affiliation.
It was a truth in Top 40 Radio that where you had two rockers in the market, the one with the least number of "tune-out" hours would win. Teenagers and young adults would tune-out during heavy newscasts. This allowed KISN the upper hand. KISN also laid on tremendous promotions that became impossible to compete with. KGW in a sense was a conservative broadcasting station and did not want to delve too far into the realm of "wild" radio. This proved to be the station's undoing.
KISN was a powerhouse of promotional activity and had imported some of the country's top purveyors of Rock: Hal Raymond, Mike Phillips, and World Famous Tom Murphy. Both Mike and Tom later worked for old friend Pat O'Day at legendary KJR/Seattle.
As Tom Murphy recalls, "Don Burden, President of the Star Stations, was brilliant at creating flame-throwing Top 40 radio stations. He wanted KISN to own the town. I remember his exact words: 'We're going to knock this market on its ass.' Don gave Portland, and the other cities where he owned stations, exciting, creative and great radio."

Phil Stanford writes in the Portland Tribune: "There was always something going on at KISN. Chain-smoking owner Don Burden, the marketing genius from Pocatello, Idaho, who started it all, wouldn't have had it any other way. In fact, if he happened to be winging into town and turned on the radio and heard something not to his liking, he'd call ahead and have the office secretary remove the offending DJ's picture from the Wall of Fame outside the studio. You always knew you'd been fired if there was an empty space where your picture used to be."
The very call letters allowed for tremendous promotional fervor. KISN had been a Vancouver, Washington station with its transmitter in Washington State but they moved into downtown Portland with most impressive and novel "street level" studios with large picture windows showcasing KISN's 24 hour sound. It was known as 91-derful KISN (91 being their dial position).

We faced the competition head-on and it was one of those fights you only read about. We tried our best to stem the tide of KISN with off-beat stunts. When KISN first came on the scene they dropped leaflets from a helicopter stating "The KISN Revolution begins this Saturday". Of course the station was fined for dropping the leaflets but as KGW Program Director Don Porter said, "It's an inexpensive way to get on the front page of the newspapers". He was right of course.
We countered by getting the "live five" deejays to paint billboards which were placed in key locations throughout Portland. Each deejay designed and painted his own Christmas greeting to KGW listeners.

In October of 1959, Tommy Facenda, who had been a classmate of Gene Vincent and had been a part of Gene Vincent's group, the Bluecaps, brought out a record called "High School USA". It was a novelty song which had been mastered in twenty-eight different versions — one for each major distributor in the United States. Each master listed the important high schools in the distributor's area. The song made it to the Top 30 in late 1959. I ran a contest with it and asked listeners to name the schools in the song.
We pulled some 7,000 letters and postcards. Our whole purpose was to counter KISN, but during the late fall of 1959, a Portland newspaper strike meant the virtual end of the race. KGW took on such a heavy commercial load that KISN won the ratings hands down. It was so heavy at one point that I ran the top ten commercials of the week one right after another with side notes and reasons for their popularity on my make believe commercial hit chart. It was a subtle way to point out the stupidity of the decision to overload the station with commercials and extended newscasts. All of this drove KGW listeners up the dial to 91-derful KISN. From this point on it was all downhill for KGW.
Epilogue: KGW managed to hang on to its audience in the 1960s and 1970s, but declining ratings in the 1980s brought format and call sign changes: KINK (1993), KEWS (1997), KDBZ (2000), KTLK (2002), and KPOJ (2003). In 2014, KPOJ rebranded as Rip City Sports Radio 620 and is now a Fox Sports Radio affiliate.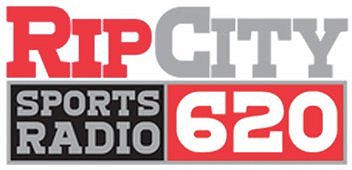 KISN was shut down by the FCC in 1976 after a series of political bias scandals. The 910 frequency was revived in 1980 as KKSN, changing call letters to KFXX (1998), KOTK (2004), back to KKSN (2005), KTRO (2007), back to KKSN again (2010), and finally to KMTT (2013). In 2015 KMTT rebranded as 910 ESPN Portland.