This photo of me with Clyde McPhatter was taken backstage just before our interview at Vancouver's Georgia Auditorium in 1957.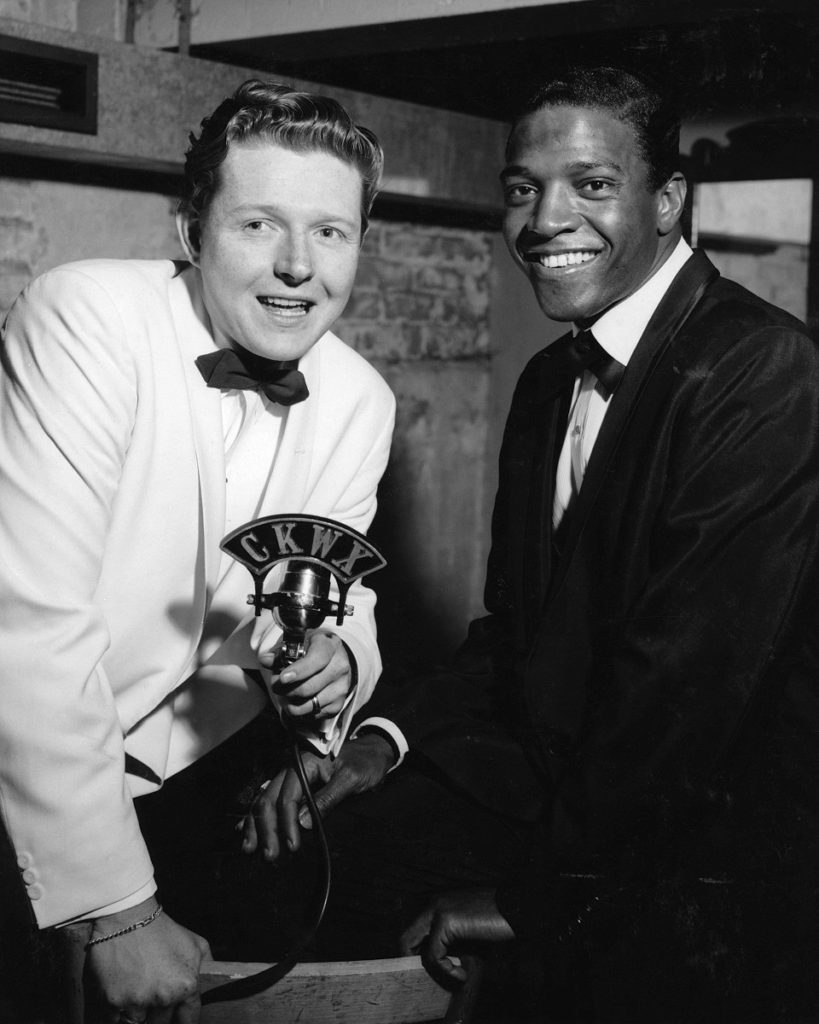 In 1956 and early 1957 two "Show of Stars" presentations came to Vancouver. The first was an all-Black show in the sense that the stars were basically Rhythm and Blues stars and not mixed up with white Rock and Roll, except that now that Rock and Roll music was acceptable to everyone they were packaged together to perform for a mixed audience. On the first "Show of Stars" the line-up included Bill Doggett, The Five Satins, Fats Domino, Chuck Berry, Eddie Cooley, Laverne Baker and Clyde McPhatter.
Of the group of stars the one that impressed me the most musically was Chuck Berry, but next to him, the friendly and shy Clyde McPhatter. Clyde formed a new singing group with singers from many groups that had drifted together in 1953. They called the group "The Drifters" for this very reason. Their first hit was a Jesse Stone classic called "Money Honey". Clyde wrote the deliciously controversial "Honey Love", which was a big hit for the group in those early days.
Clyde went out on his own after coming out of the service and had a few hits such as "A Lover's Question" in 1958. The Drifters went through a series of lead singers including Bobby Hendricks, Ben E. King and others. The group became one of the legendary singing organizations in the history of contemporary music. Clyde McPhatter died of a heart attack in 1972. He was just forty-one at the time.
Out of this show grew my admiration for the true roots of Rock and Roll. I could appreciate Bill Haley and the Comets and Elvis Presley, but after this dynamite show I realized where it had all begun. The black man had given us jazz and had now spun out his newest offering… and it was taking the world by storm. #TBT