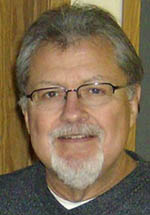 This is my 53rd year in radio. Along the path I have walked I have encountered the good, the bad and the ugly. Thankfully most encounters were with great people. One of the greatest guys in the business was Gord Robson. I say "was" because he was found dead in his Edmonton apartment today (March 22). Cause of his death has not yet been determined. Gord was 56.
Gord was at CKLG for a decade from 1974 to 1984. He was a most engaging personality and had that sunny quality about him which indicated a positive attitude towards life in general. It is a known fact that he not only loved radio, he lived for it. His career goes back to CKXL in Calgary in 1968. Some of you might remember Gord anchoring Sports Page on CKVU-TV from 1978 through 1980, all the while working at CKLG.
Gord had a real passion for sports and it showed. His last posting was at CHQT in Edmonton doing a myriad of jobs from remote broadcasting to voice tracking and production at the outlet. With the collapse of personality radio in most markets in this country he found himself hanging in there by the skin of his teeth, like so many other professionals in the business. The really sad part of this story is that in his final days he was not allowed the pleasure of a regular program and that is a tragedy befalling so many in radio today.
Our sincere sympathy goes out to his family and friends. I will miss him.
Read comments at Puget Sound Radio
Read comments at RadioWest
Listen to Gord Robson at RadioWest