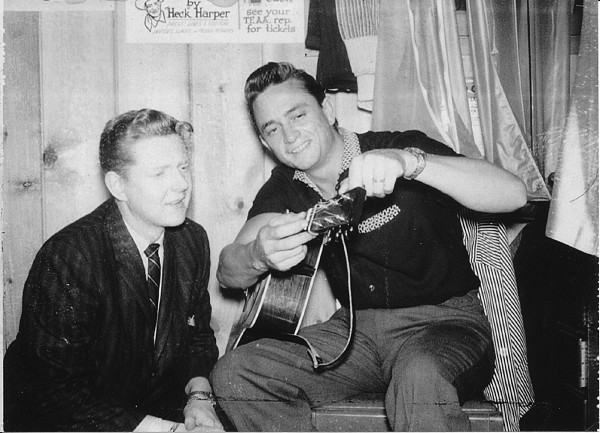 Like Elvis' hit "That's All Right Mama", I couldn't begin to tell you what ran through my mind when I first heard Johnny Cash sing "I Walk The Line". It was a little Hank Williams, it was a little Elvis and a whole lot innovative.
We first met at the Division Street Corral in Portland in 1959 when I was a deejay at KGW. We became friends and I had the pleasure of working with him at many performances over the years.
It was an honour to bring him onstage, whether it was an outdoor arena, a huge indoor venue, or a more intimate theatre. We worked them all. Johnny Cash had a presence I can't explain, except to say it was like meeting the John Wayne of country music. He established the country crossover hits like none other. No wonder he is in the Rock & Roll Hall Of Fame, the Country Music Hall Of Fame and the Songwriters Hall Of Fame. When we lost Johnny Cash we lost a true original. This was a man.
For more great music from Johnny Cash, Jerry Lee Lewis, Carl Perkins, and Elvis Presley, check out The Million Dollar Quartet on now until July 9 at the Arts Club's Stanley Industrial Alliance Stage.