At last Global BC's Tony Parsons is being recognized for his contributions to Canadian broadcasting by the Canadian Association of Broadcasters. Tony has been a fixture on the Vancouver media scene for decades. I believe that if this talented newsman and anchor was in Toronto the honors would have gone his way a long time ago. Such is the fate of living in Western Canada, but better late than never!
Tony's viewing audience is the second highest in North America. He always credits the incredible news team backing him up and that is true to a point, but it is his believability as a news anchor that wins the day, much the same way Walter Cronkite did in America. The accolades will surely pour in and we would like to add our congratulations on this honor. You deserve it, Tony!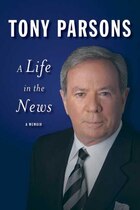 Tony's new book, A Life in the News from Harbour Publishing is out now! Click the book cover to find out more… and buy online for Christmas!